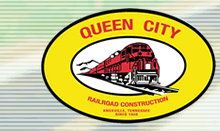 2709 Byington Solway
Knoxville, TN 37931
Phone: 865-692-1902 Ext 231
Fax: 865-694-6356
Contact: Mark Edmands, President
Email: medmands@qcik.com
Website: www.qcik.com
For over eighty years, Queen City Railroad Construction, Inc. has been providing railroad construction services to both the public and private sectors. With its fourth generation management, an experienced staff of engineers and field persons, plus its full line of specialized railroad equipment, Queen City Railroad Construction, Inc. is capable of handling railroad projects of any size at any location throughout the United States. Queen City Railroad Construction, Inc. is a subsidiary of Healey Railroad Corporation.
Queen City specializes in the following railroad classifications:
• Track rehabilitation
• Transit construction
• New Track Construction
• Short Line Railroads
• Class I Railroads
• Public Works Projects
• Military Facilities
Safety is incorporated into every facet of our company. Much time and effort goes toward insuring that our employees have a safe working environment, proper OSHA and FRA training, and the best equipment for their protection.