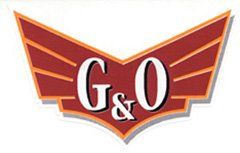 17301 Andrew Jackson Hwy.
Laurinburg, NC 28352
Phone: (910) 276-2811
Fax: (910) 276-2853
Contact: Terry Haywood, Eastern Regional V.P.
Email:thaywood@gulfandohio.com
The Laurinburg & Southern Railroad Co. operates in south-central North Carolina from Johns through Laurinburg to Raeford, serving shippers in Scotland and Hoke counties. The company, which began operations in 1909, is owned by the Gulf & Ohio Railways of Knoxville, Tenn. (The Nash County Railroad and the Yadkin Valley Railroad are also owned and operated by Gulf & Ohio Railways.)
Commodities carried by the railroad are grain, fertilizer, soda ash, coal, and lime.
Principal shippers are: LOF Glass of Laurinburg – float-glass manufacturer; Carroll's Foods Inc. of Laurinburg – feed mill; and Royster Fertilizer Co. of Laurinburg. The Laurinburg & Southern has industrial sites ranging in size from 20 to 1,000 acres. The company also performs contract track construction and crossing maintenance.
The L&S connects with CSX and the Aberdeen & Rockfish Railroad.
Miles of track: 28
Employees: 4
Carloads: 7,500 per year
Industries served: 5
Equipment: 3 locomotives