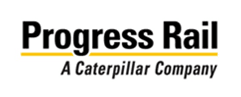 3065 Eagle Ridge Drive
Valencia, PA 16059
Phone: 707-481-8597
Cell: 724-996-0740
Contact: Jonathon Donelli, Account Executive II, North America Track
Email: jdonelli@progressrail.com
Website: www.progressrail.com


Progress Rail Services provides a full range of integrated products and services to the rail industry. We focus on 2 main areas; Engineering and Track Services (ETS) and Locomotive and Railcar Services (LRS). The E&TS groups provides new and rebuilt Trackwork built to the customers specifications. Along with new or relay rail, we can also offer fixed pant or in track rail welding through our Chemetron Division Our signal group offers design, maintenance and installation of crossing warning systems as well as individual components. We also offer new and used MOW equipment for sale or lease . Don't forget Progress for abandonments or sale of your surplus inventory. Our L&RS group can fill all your mechanical needs. We offer locomotive repair and rebuilding as well as mobile maintenance crews. Our parts shops can fill virtually any requirement for car or locomotive parts. Also keep us in mind for railcar repair, wheels and axels.